Managing Stress with Ayurveda
In the fast-paced world we live in, stress has become commonplace and a daily reality for some people.
While some stress, within limits, can help us achieve our goals, if it becomes constant it can lead to serious burnout and have serious consequences on our health.
What can we learn from ancient Ayurvedic wisdom to curb stress in the modern era?
take time to understand the environment you are in and recognize the elements that are causing you stress—where possible make changes to bring a better balance to your life.
if there are things out of your control, you can always control how you react—practicing yoga, meditation, and breathing techniques like Pranayama can help keep you calm in times of stress.
seeking counseling can also help you manage your stress, in ancient Ayurveda people would spend time with a spiritual guru to help them make sense of what was happening in their lives.
several Ayurvedic herbs are extremely effective in reducing stress—Ashwagandha, Bramhi, Shankhpushpi, and Yashtimadhu.
drinking specific teas can also provide stress relief—Chamomile, Fennel Seed, or Basi teas.
an annual Panchakarma (PK)is a perfect way to experience a complete reset when stress is getting too much—during your PK you will have a range of treatments to balance your bioenergies and restore calm.
See how a Panchakarma has helped others with managing their stress or talk to our Ayurvedic Doctors about how a PK could help you.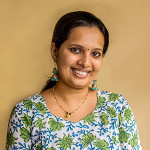 ---
Aparna K. BAMS, MD, PhD
Aparna is one of the few specialists worldwide with a Ph.D. in Ayurveda. Born into an Ayurvedic family which operates a traditional Ayurvedic Panchakarma hospital in Kerala, India, she grew up observing her father, the renowned Dr. Padmanabhan.
---