Papaya & Banana Juice
1 cup ripe papaya, including 2 ripe seeds
1 banana
1 tbsp shelled hemp seeds
1 tsp fresh ginger; root, peeled and diced
¼ tsp cinnamon powder
1 cup warm water
Place all ingredients in food blender and enjoy fresh.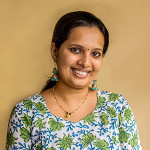 ---
Aparna K. BAMS, MD, PhD
Aparna is one of the few specialists worldwide with a Ph.D. in Ayurveda. Born into an Ayurvedic family which operates a traditional Ayurvedic Panchakarma hospital in Kerala, India, she grew up observing her father, the renowned Dr. Padmanabhan.
---