Cold & Cough Ayurvedic Remedies
Having a cold and cough is certainly one of the most uncomfortable things that many of us have endured. The following Ayurvedic methods will help you feel more at ease.
Make a steam and inhale the fumes for 10 minutes. Add eucalyptus oil, basil leaves or lemongrass oil to your steam will enhance the efficacy of the treatment
Mix mustard oil with garlic. Alternatively, mix warm sesame oil with salt and a drop of eucalyptus oil or lemongrass oil. Massage your chest, back, and neck with the mixture
Put one teaspoon of salt into a glass of hot water. Gargle with it twice a day. This treatment is best for children
Herbal Tea (to be consumed 3 times a day)
3-4 basil leaves
2-3 seeds of black pepper, crushed
2 1-inch ginger slices
1tsp palm sugar in approx. 350ml of water then reduced the amount to approx. 250ml.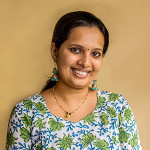 ---
Aparna K. BAMS, MD, PhD
Aparna is one of the few specialists worldwide with a Ph.D. in Ayurveda. Born into an Ayurvedic family which operates a traditional Ayurvedic Panchakarma hospital in Kerala, India, she grew up observing her father, the renowned Dr. Padmanabhan.
---