Ayurvedic Ways to Prevent Hair Loss
In Ayurveda, Ahara-Vihara (diet and lifestyle) are two major factors that influence our body and mind. They affect our hair, skin, and nail health, digestion, stress levels, sleep, and how we evacuate toxins from our bodies.
Physiologically, our dead skin and hair are shed every day. It's normal for a number of hairs to fall out each day—it happens in all age groups. When this shedding increases it can be cause for concern. Hair loss from parts of the scalp is seen in a few conditions like anemia, thyroid disease, and psoriasis—these conditions can be caused by a lack of sleep, high stress, and poor hygiene. When hair loss occurs in small round patches it is known as alopecia or scalp psoriasis.
Here are some Ayurvedic treatments that support healthy hair:
1. Shirodhara with oil or decoction
Shirodhara is an Ayurvedic treatment during which medicated liquids (oil, water, or other liquids) are gently poured over the forehead in a continuous stream. The name comes from the Sanskrit words Shiro (head) and Dhara (flow).
Shirodhara helps nervous system disorders—restless mind, insomnia, anxiety, hypertension, headache, paralysis, and degenerative Vata diseases. It can also prevent dandruff, premature greying, and skin disorders.
2. Shiroabhayanga
Warm coconut oil, castor oil, or medicated Ayurvedic oils are used to massage your head, neck, and shoulders.
This treatment lowers stress levels, nourishes and promotes hair growth, brings strength and clarity to the senses, improves blood circulation in the head, and relieves headaches, migraines, and stiffness in the neck and shoulders.
3. Taladharanam
Taladharanam, also called Talapothichil or Shiro lepa, is a cooling remedy that is effective for stress, and sleep-related issues and strengthens the hair from the roots.
The procedure begins with the application of a medicinal herbal paste to the head, which is then covered with a banana leaf cap.
Taladharanam has a strong balancing and calming effect, increases neuronal activity, and helps with migraines, insomnia, and stress. It also reduces body heat, enhances memory, prevents premature hair aging, and calms the body and mind.
4. Nasya – Nasal detox
Nasyam is the practice of administering medication (oil, juice extract, or powders) through the nose.
Nasyam, Ayurvedic nasal therapy, is one of the five Panchakarma treatments, it helps with premature graying, nasal congestion, syncope, neurological issues, dental health issues, and migraines.
Ayurvedic tips to prevent hair loss:
Herbs that can be used externally either as a powder for a scrub to massage the scalp are licorice, hibiscus and Indian gooseberry. Or the fresh gel of aloe vera is also recommended.
A decoction of Triphala (a powerful herbal remedy that consists of Haritaki, Bibhitaki and Amla) is one of the best-medicated hair washes to use once or twice weekly.
Make sure you are drinking enough water.
Eat healthy meals including vegetables, seeds, fruits, and lentils to support hair nutrition.
Do daily exercise and meditation.
If you are experiencing ongoing hair loss, seek advice from an Ayurvedic doctor who will look at any imbalances and underlying health disorders and suggest a treatment protocol to solve the issue.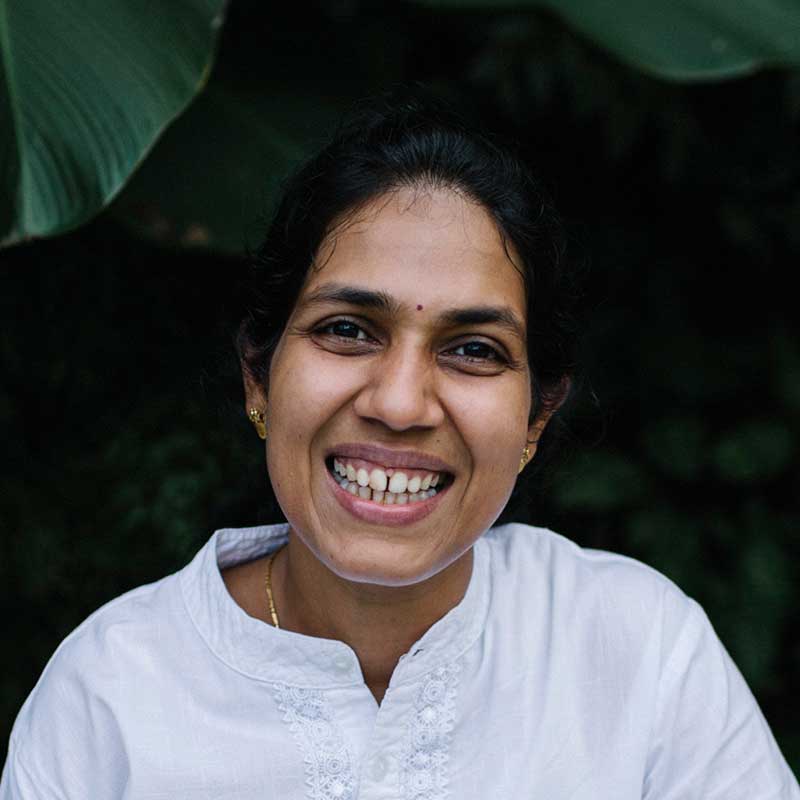 ---
Dr. Resmi V. Rajagopal, BAMS, MS (Ayurveda Gynec), PGDYN
Dr. Resmi is a versatile Ayurvedic physician from Kerala, India, specializing in women's health and pregnancy care, therapeutic yoga, and nutrition.
---