Ayurvedic Beauty Tips
One of the great things about Ayurveda is that it beautifies you in a way that is easily obtainable. The following beauty tips can be done by using stuff that you can easily obtain in your local markets, supermarkets, or perhaps your own backyard.
Make a paste from sliced cucumber, tomato, and fresh mint leaves. This facial pack will refresh and tone your face and impart its glow.
Mix an equal amount of honey and lemon juice and leave it for 15 minutes on your skin. The mixture will act as a natural bleach and remove tan from your face.
Mix chickpea flour with water, rose water, or yogurt. You can use the mixture as a skin cleanser.
Make a paste from almonds and ripened bananas. This face pack is best for dry skin and will nourish and make your skin glowing.
Mix 1 tablespoon of sandalwood powder and a half tablespoon of turmeric with water or yogurt. Apply this paste to your face and leave it on for 15 to 20 minutes. Afterward, rinse your face with lukewarm water.
Obtain the fresh gel from an aloe vera leaf pod and apply it to your face. Massage your face. It is effective to treat sunburn, skin eruptions, and acne.
Make a paste using sliced raw potato and cucumber and add a few drops of lime juice. Apply this paste daily to lighten skin pigmentation, blemishes, and dark spots.
Make a paste using mashed carrot added with milk or honey. This paste will make your skin more radiant.
Put mashed ripened papaya on your skin for 20 minutes. It will make your skin more glowing.
Make a paste from cucumber, honey, chickpea powder, and milk. It is best used as a coolant and to treat sunburn.
Make a paste using oats soaked in milk and almonds. It is a good way to moisturize dry skin.
You can also moisturize your skin using coconut oil, castor oil, coconut milk, or cow's milk.
You can remove excess oil on your face and body with chickpea flour and mung bean flour.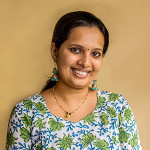 ---
Aparna K. BAMS, MD, PhD
Aparna is one of the few specialists worldwide with a Ph.D. in Ayurveda. Born into an Ayurvedic family which operates a traditional Ayurvedic Panchakarma hospital in Kerala, India, she grew up observing her father, the renowned Dr. Padmanabhan.
---